Sherry-Lee Benson-Podolchuk is happy to participate in Mental Health in the Capital on May 9, 2018 in Ottawa.
Get the information and best practices to address mental health in the workplace. During this one-day conference, you can expect discussion on the latest trends in workplace mental health from both private and public-sector organizations leading successful mental health initiatives.
Sherry has been added to the conference agenda and welcomes you to join this exciting new conference being held at the Shaw Centre.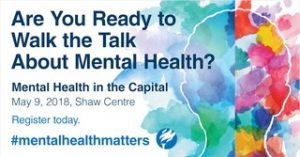 This event has been tailored to cover issues that matter. The topics discussed will enable you to implement change in your organization, allowing it to become a psychologically safer place to work.
See the full conference agenda here.
Register using the friends of speaker discount and receive a rate of $995. Register online and use discount code SPKRF.
We hope you will join,