What is forgiveness?  What if  I can't forgive?
These are questions I am often asked at each keynote presentation, conference and meetings where I address topics on workplace conflict, bullying and sexual harassment.  From my perspective, forgiveness is more about us and finding a sense of peace.
"We must have anger, resentment, blame, even hatred going on in order to feel the need to forgive. Forgiveness is really an act of letting go, releasing the anger, the hatred, the bitterness, the thoughts of revenge that we have been carrying around." Dr. Wayne Dyer on forgiveness.
Did I have anger, resentment and blame for the years of bullying and other violence?
Absolutely!  At times I clung onto those negative feelings like a person holding onto a life preserver in the rough waters.  It was a miserable mental state to live in for those few years.   I had become used to being angry, bitter and resentful.  My life was consumed for many years in trying to survive the workplace violence that I had lost who I was and wanted to be in life.  Suddenly with 20 years in the horizon there some serious soul searching needed.
It took some time to first recognize that I willing kept one foot in the past as if to justify my pain  and outbursts of anger and yet at the same time, also trying to move forward with the other foot.  Totally off balance.   Ask yourself, 'How could we let go and move forward?'   If we are not willing to let go  and that is an individual and an active choice, then bitterness fills our soul. We risk becoming an unhappy person void of peace and happiness.  Who wants to live like that for 50 years or longer?  Not me! No Way!  So what do we have to do to let go and what does that look and feel like?  Different for everyone.
First I had to accept the past as the past and nothing could ever change what happened.
Forgiveness was also forgiving my mistakes, We cannot  change those mistakes either, but  we can learn.  Learning life lessons is part of who we become.  Why would I allow one event define my life? Why would I allow a few mean spirited people ruin my life and future happiness?
We have choices to  focus on the bad stuff and ignore the lessons, keep repeating the patterns, OR we can accept the past as lessons, learn a more healthy, productive and happy way to make choices and act in life.  Forgiveness is a choice of letting go of the pain to find a sense of peace. Finding that sense of peace may be easy or more challenging, it is a work in progress to move forward.   Being curious and compassionate with ourselves  is part of the journey to forgiveness for ourselves and others.  As a person living with PTSD, there are triggers for sure and I continue to find a sense of peace and happiness.  Making that conscience decision to be happy is an active choice. Yes we all have that choice.
"There is some good in the worst of us and some evil in the best of us. When we discover this, we are less prone to hate our enemies."  Martin Luther King Jr.
I can remember being so wrapped up in hate that I lumped all the bullies into one category. In other words, every police officer in the entire world  to me, was a bully. Not true. There are more good officers than bad. The big step moving forward came as a personal surprise at a conference in 2014.  The RCMP Commissioner was attending the IAWP (International Association of Women Police)  Conference.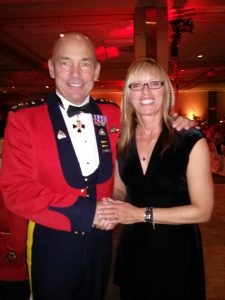 You see having the courage to speak face to face with the leader of an organization that had brutalized me for years became that first step of letting go, of forgiveness and finding peace. Everyone has their own path and journey. This Commissioner had nothing to do with the previous 20 years. We never crossed paths. Standing beside him I felt this HUGE weight lifted from my shoulders.  The beginning of taking the next step forward. Awesome.
Am I scarred? Yes. Our scars remind us where we have been but do not have to define who we are and what we become in the future, our success and happiness.   Please take the chance for peace it is worth it.