SHEday 2018  sharing, hearing and empowering our story.
The founders of the event, Marina R. James and Mary Jane Loustel along with  Sandra Altner Women's Enterprise Centre of Manitoba have helped women support women in gaining opportunities in business, leadership and further roles in politics. There were many sponsors who made the day possible with contributions that kept the costs down for everyone to have access to SHEday.
The room was filled with energy.   From the first moment I walked into the huge conference room at the RBC Convention centre, the energy from all the women and the few men was almost intoxicating.  The 1500 people in attendance were all there for the same reason, to share, to hear and to empower each other with our stories. 'Wow' I thought, 'this is the place I want to be!'   As a speaker it was exciting to meet the different women, with various life experiences, uniques business and genuine curiosity.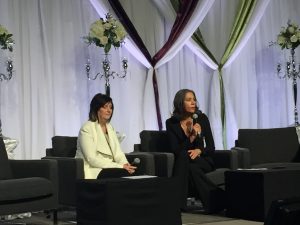 With the hundreds of tables in the beautifully decorated room, it was challenging to find mine and that was part of the fun, standing or sitting, chatting and meeting new people. There are no coincidences, and those who resisted the urge to stay at home and suddenly decided to attend,  I am sure you are feeling overwhelmed at the adventure. The speakers were captivating and unique in their presentations and stories. We are more alike than different and today SHEday was all about the women and their stories.  Each one a best seller in the process!
Check out each speaker and be inspired. We benefited from the experiences of these women in business, their struggles, courage, passion and hope to make the world a better place for women.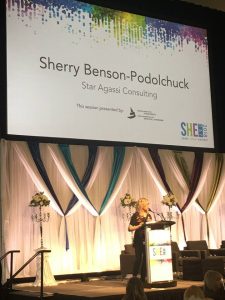 Standing on stage looking out into the crowd it was exciting to share about 'Changing our Story, learning to define ourselves in a positive light and be happy'. Strangely there was no nervousness, which was a surprise, just a sense of adventure and excitement to help empower women  to believe in the power of their voice.
There are many events that change us outside our family experiences,  personally touching the Wailing Wall, doing a TEDx talk and being part of the SHEday 2018.   It was and is an honor to listen to people share their stories. As the days unfold I would hope that everyone who attended follows their dreams, believes in the power of their voice and creates their own story.
Thanks MJ and Alison and everyone that attended, I am thankful for the opportunity to  share my story and listen to many beautiful, inspiring stories as  part of SHEday 2018. ROC the world!