Sometimes, when we least expect it, amazing things can  happen, being presented with a Canada 150 Medal. Like wow!
Along with other inspiring people, Senator Grant Mitchell presented us with the Canada 150 Medal
in the Senate November 29th, 2017. Why? For speaking up about sexual harassment and bullying and the continued efforts to create positive changes in the workplace culture of the RCMP. It was truly awesome to share the day with other amazing Canadians who have worked to help make the world a better and safe place for everyone. Some of whom were on the plane ride home.  Here is the link to the other recipients of the medal from Senator Mitchell.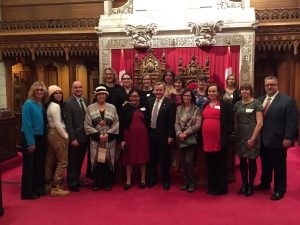 Senator Grant Mitchell and recipients of Canada 150 Medal
Having a tour of the Parliament building with Senator Mitchell and his lovely wife Teresa, we had access to view this beautiful historic building which will be under construction for 10 years. This maybe my one opportunity and I was totally impressed!!!
Sarah Gray Chief of Staff, did an amazing job  and provided  excellent food for the group after the formal ceremony in the Senate. My heart was racing with excitement, all the years of struggle seemed to be part of the celebration of this day.  It was really wonderful to finally meet Senator Mitchell and Sarah having had many conversations over the years.
Greg the photographer took care of the pictures, Jasmit and Rebecca made sure we were on time, in the right seat and having fun. A combination of excellent staff and good leadership.
I met inspiring people today!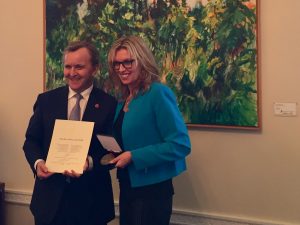 The Canada 150 Medal.
" The Senate 150 Anniversary Medal celebrates the achievements of Canadians who have made significant contributions to their community and commemorates the 150th anniversary of the first sitting of the Senate on November 6, 1867. Through the creation of this medal, senators sought to honor Canadians whose generosity, dedication, volunteerism  and selfless service have meant so much to so many. On this day, senators have the privilege of recognizing those people who embody the values that binds us together and make Canada a caring and compassionate country."
I love being Canadian!
Each Senator had 15 medals to give to individuals or an organization. A public recognition for their work. Over 150 people received an award.
For me having my sweetie in his formal military uniform made it a beautiful celebration, he was and is my best friend.
Good work and continued success to everyone who received a medal.